Say it With Beef: How to Make a Jerky Bouquet for Your Valentine

A step-by-step guide to a DIY beef jerky bouquet
When you think of Valentine's Day, it's almost inevitable that flowers and chocolates come to mind. After all, they represent love in almost every way.
So we thought, that if flowers are the universal symbol of love on Valentine's Day and jerky is our symbol of love everyday... why not combine the two and make magic with a beef jerky bouquet (or in some cases a "broquet")!
Crafted from massive slabs of jerky, these edible roses are the ultimate Valentine's Day gift. Not only are they delicious and made with quality ingredients, but they are unique and extremely thoughtful. I mean rose petals made out of dried beef? It doesn't get any more creative than that.
All you have to do is put in a little bit of effort and you'll reap the rewards. And if you're starting to panic or think this is too hard, take a deep breath and pray to the jerky Gods. (Just kidding, there's no need for that.)
We will show you an easy step-by-step tutorial (with pictures) of how to craft the perfect jerky roses for your beefy boo.
STEP 1: It's all about the materials when making beef jerky flowers

Now we don't claim to be architects, but we do know a bit about our Classic Big Slab line and that it serves as a solid structure for the jerky rose petals that scream "Happy Valentine's Day!"
Thin, tough, and handmade, each jerky slab can be molded and manipulated into the form of a flower. (Especially when you squint your eyes and tilt your head while looking at it.)
Based on your Valentine's flavor palette, you'll be able to choose from three different flavors - Original, Teriyaki, and Hot & Spicy.
Make sure to purchase the Big Slab bag that contains 15 giant slabs made from whole chunks of 100% American beef because the pieces will be large enough to form flower petals.
Helpful Tip: Shop our Classic Beef Stick line to make the jerky stems. The beef jerky sticks serve as the perfect, thorn-free support for the jerky rosebuds!*
STEP 2: Focus on technique (or really just do your best)

So you've received your jerky shipment and now it's time to assemble your beef jerky bouquet. Here comes the challenging part.
And no it's not actually forming the beef jerky flowers, but it's refraining from consuming the jerky as your bouquet takes form. Good thing these bags come sufficiently packed as there will be enough inventory for nibbles along the way!
1. Take 1 slab and trim the corners to make a large oval shape.
2. Roll the oval slab around 1 beef jerky stick. While still holding it in place, trim the excess sides of the oval shaped slab. (Careful not to cut the stick/stem*)
3. Secure it with a sturdy toothpick. And voilà! (If it doesn't resemble a rose, remember to squint and tilt your head while looking at it or try try again.)
Complete the bouquet by repeating steps 1-3 to make as many jerky roses as you'd like.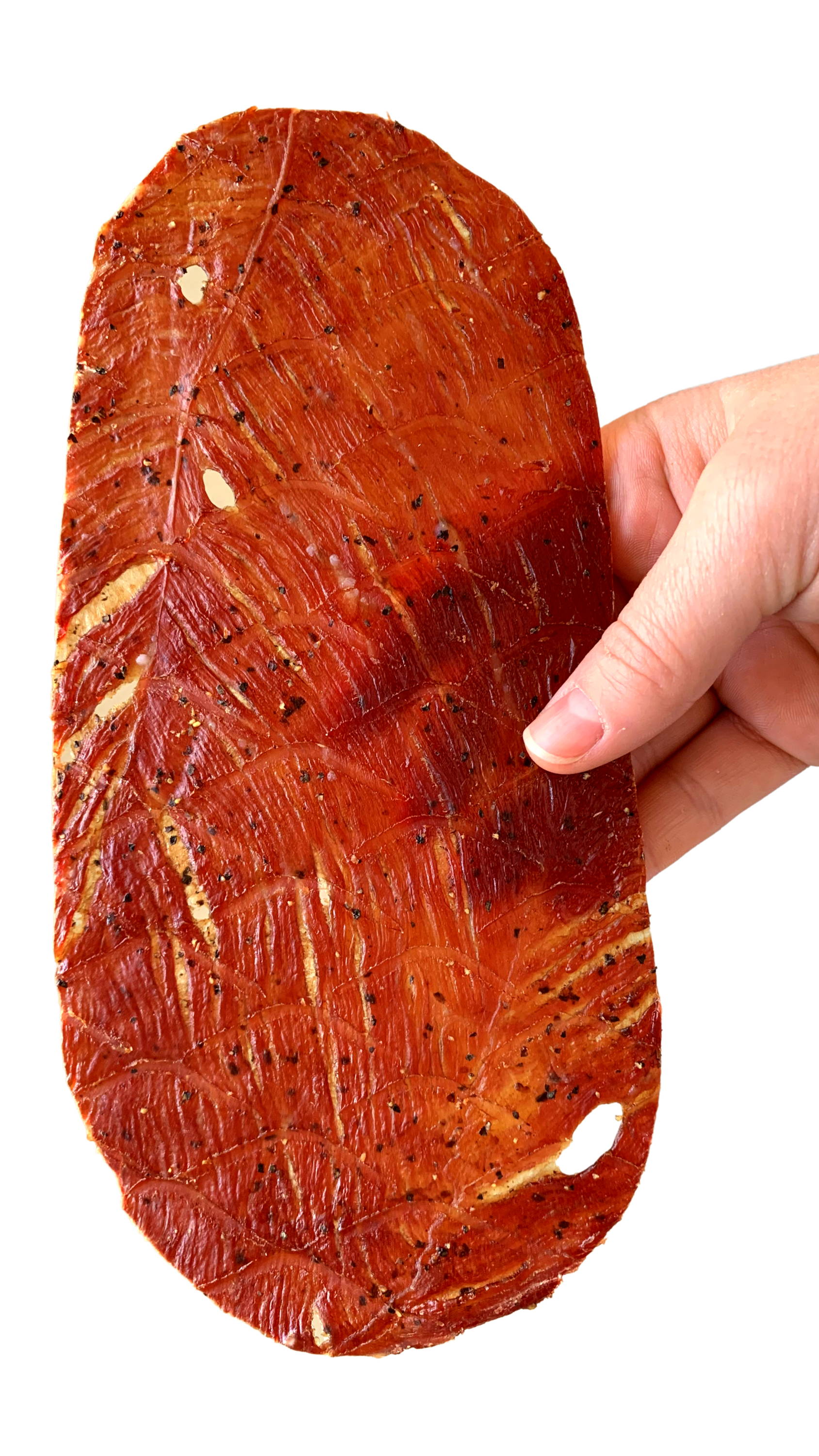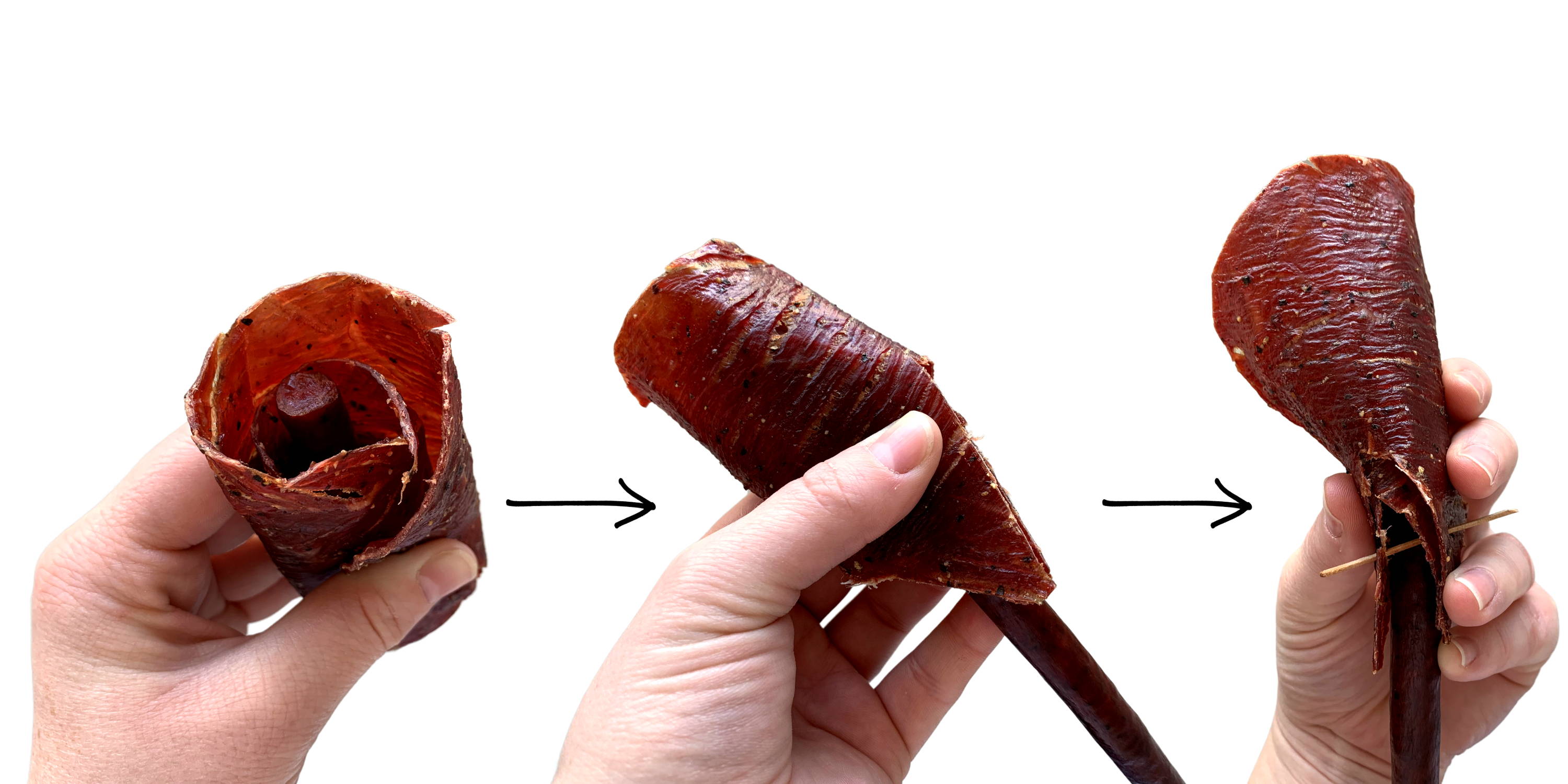 ---
STEP 3: Gift your masterpiece to your Valentine!

Congrats!
You've just created the most delicious DIY Valentine's gift any carnivore would only dream of. And it wasn't too hard, right?
Now it's time to celebrate by gifting these Valentine's Day flowers to your significant other.
Here's to hoping they share with you as a token of their appreciation for your efforts! (We told you you'd reap the rewards.)
Inspired to create your own beef jerky bouquet or jerky flowers? Make sure to tag us on social media to get a repost!
---