TIMES HAVE CHANGED
The healthy, balanced, pre-pandemic eating habits we worked so hard to cultivate flew out the window when something as simple as grocery shopping became an exercise in bravery, patience and dealing with disappointment (somewhat) gracefully.
Assuming your mettle lasts past the time it takes to even get through the front door, once you're inside and faced with empty shelves and quantity restrictions, the chances you'll walk out with exactly what you came for are slim.
Enter the abandonment of all rules. "No junk food in the house" and "eat something besides pretzels for dinner" have become self-righteous guidelines from a civilized past.
And yet, as society has seemed to wholeheartedly embrace insanity, eating well to maintain your health has never been more important — for both ourselves and our families. Of all the challenges intrepid shoppers face these days, being unable to access high-quality, protein-rich foods is among the worst. And the most frustrating.
We all know the importance of protein for a healthy, well-balanced diet, but when options are limited, what do you do?
The answer isn't to stock your shelves with obscure, tinned fish that has somehow made it over from the former USSR. It's jerky – your new best friend.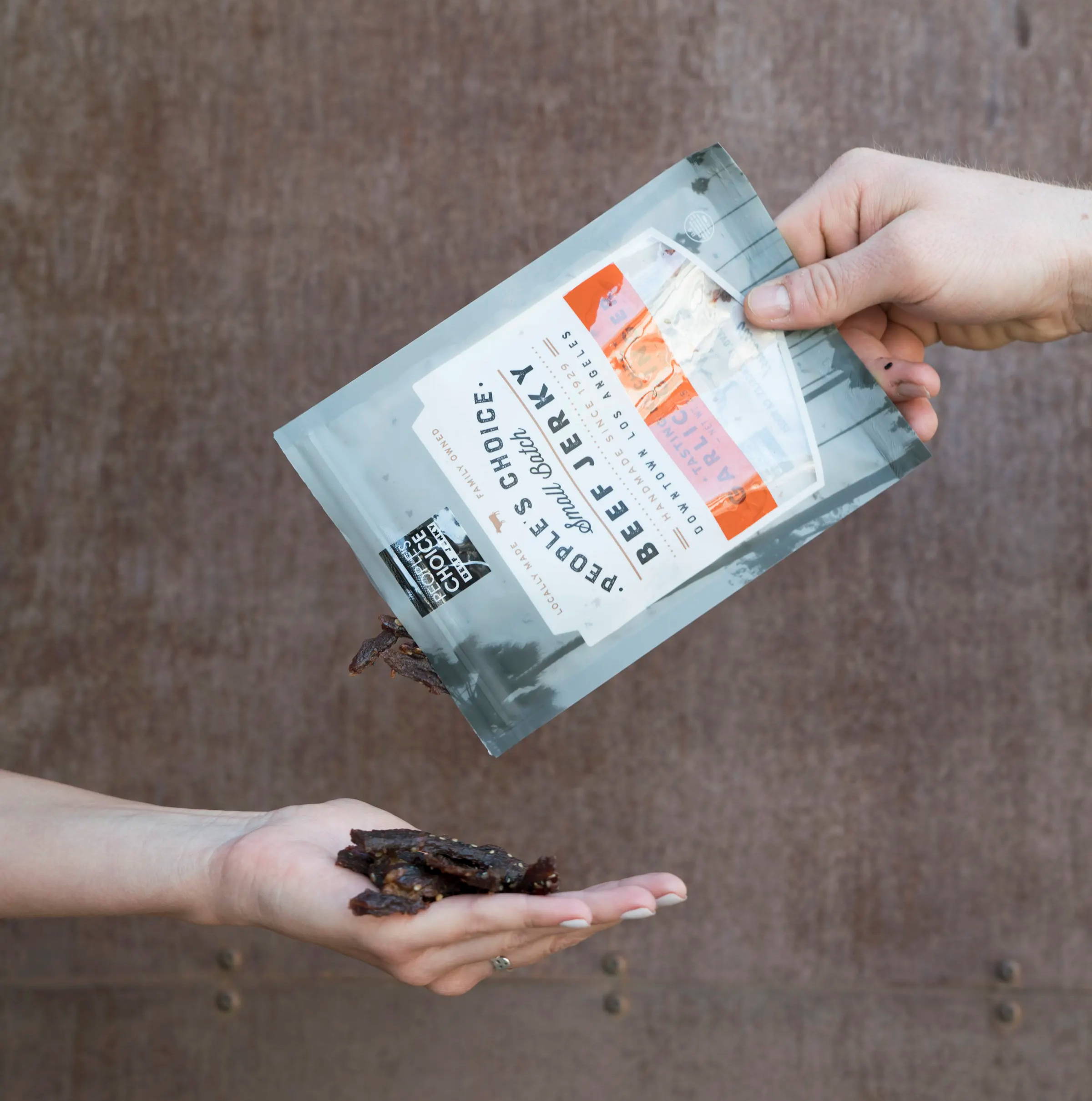 BEEF JERKY IS THE OG OF SHELF-STABLE, NON-PERISHABLE SNACKS…SINCE LIKE 1,000 YEARS AGO
Native Americans and ancient Incans (the original inventors of jerky) were clearly onto something.
The magic lies in the dehydration process. The low and slow cooking process removes almost all the moisture (the enemy of non-perishable food) from the meat. Because of this, jerky requires no special handling or refrigeration. So to answer the question keeping you up at night…does jerky require refrigeration? No!
This shelf-stable snack is perfectly content in a cool, dry place in your pantry or on your countertop. In fact, most jerky is produced with a one-year shelf life, making it a natural choice for your snacking stockpile. Just make sure to order extra so you don't have to dip into your emergency food supply while looking for healthy snacks to eat when hunger hits.
BEEF JERKY IS ONE OF THE BEST HIGH-PROTEIN FOODS
It contains a healthy mix of each of the nine essential amino acids necessary for the human diet. The dehydration process (sound familiar?) removes moisture from the meat, increasing nutritional density and helping it pack a protein punch that can satiate any craving. The best part? It delivers that high-quality protein in a low-calorie and low-fat package. Talk about a win-win-win.
You might be wondering, when looking for shelf-stable and healthy non-perishable snacks — what foods are the highest in protein? And how does jerky stack up to my other favorites? Here is a list of popular shelf-stable food with high protein content.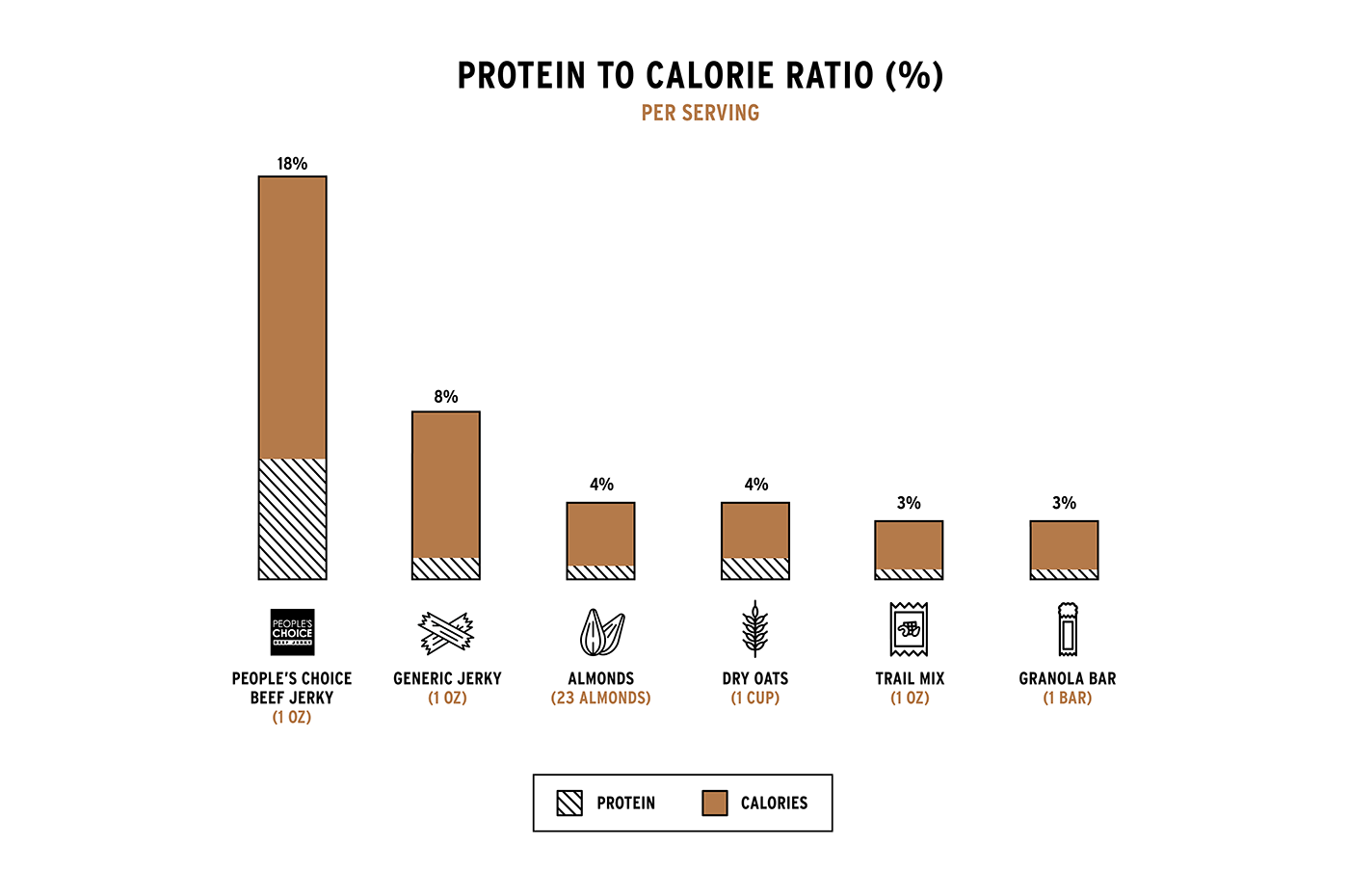 The answer is clear. Jerky is one of the most efficient snacks for high-quality protein per calorie. It's the reason jerky is a go-to non-perishable meal for backpackers, campers and survivalists…and now families living under shelter in place and safer at home orders.
So whether you're looking for the ideal non-perishable snack in an emergency situation, or dinner on a Tuesday night (not necessarily different things in most households), then jerky is the clear winner.
The key, however, is choosing the right beef jerky.
MEET PEOPLE'S CHOICE BEEF JERKY
People's Choice makes beef jerky the right way: crafted by hand in small batches with simple ingredients. We would know. Our family has been handcrafting artisan jerky for four generations and 90+ years. This is real food, made by real people.
Did you know most other jerky companies outsource their production? They have no control over how their jerky is made. Not us. We make everything in house by hand. We care too much about our craft. Some might call us perfectionists, but we feel it's the only way to do it.
Our jerky isn't pumped out on a factory line either. It's handcrafted in small batches to ensure the highest quality.
We purposely craft our jerky to be shelf-stable and non-perishable nutrition. Some of the softer, moister jerky products on the market require refrigeration after opening. Does our beef jerky need to be refrigerated? Absolutely not. You can be confident that our jerky will be ready when you need it.
The best part? We ship factory-fresh jerky direct to your door. Most orders ship the same or next business day. Skip the supermarket, or at least take one thing off your list. Get meat delivered to your doorstep, fresh from our factory in downtown LA.
That's the front of our building. We've been in the same location since 1929. We might know a thing or two about handcrafting artisan jerky.
But don't just take our word for it. See what some of our customers have to say.
Classic, can't be beat!
This is probably the best big slab jerky on the market. Whole cut slabs of muscle with a light marinade makes for an amazing staple in our pantry. Keep it up, People's Choice!
William H.
Tasty every time!
We love receiving our monthly shipment of jerky and can't wait for each delivery. Even our toddlers request it as soon as they see the bag!
Sarah H.
Dig the jerky
Tasty jerky! Great flavor, nice texture, and great price in bulk. Quick delivery as well. I'll be buying more!
Jacob W.
READY TO PLACE YOUR FIRST ORDER?
Browse some of our most popular flavors and styles. Start with a small bag to find your favorite and then graduate up to our family-size packs. Or take the plunge and grab your 1 pound bag. We offer a variety of flavors and styles that are guaranteed to please the whole family, even those picky eaters.
---